A recent report from Metaari, entitled 'The 2018 Global Learning Technology Investment Patterns: The Rise of the Edtech Unicorns', revealed that the global edtech investments reached $16.3bn in 2018. Game-based learning and AI tools were particularly well funded, with China very much leading the way.
But what does the UK edtech sector look like in 2019 and are there still opportunities to be had? As the trend towards collaborative learning continues, we'll continue to see a shift away from traditional classrooms and greater use of booths in which students can interact alongside ad hoc collaboration areas. Expect a huge increase in the demand for huddle spaces in none teaching areas too.
Many schools are now also encouraging their students to utilise teaching spaces when not formally in use. Collaboration tools can have a big impact in these spaces. For example, the Solstice Pod from Mersive is proving popular, providing BYOD connectivity to any client device, and enabling an unlimited number of users to collaborate by simultaneously sharing content, desktops and application windows. It is this kind of ease of use that students demand while the collaboration it enables has repeatedly been shown to make the lesson more engaging while encouraging all students in the room to participate, some of who may not feel comfortable doing so in a traditional teaching space.
Student expectations are undoubtedly driving investments. Central to this is the expectation of a consistent, seamless experience in the classroom that matches what they are likely to have in the home. Students expect to be able to access their devices, share content, whether that's academic or social, and keep updated on school activities from any of their personal devices. Solutions that keep students informed academically but also have a social element to them are already popular at a higher education level, due to their positive impact on student retention rates, but expect this to filter down to secondary too.
Machine learning will be another big trend in 2019, particularly its use to monitor student performance and allow interventions at an earlier stage should issues arise. Machine learning tools can enable greater personalisation and testing, and adjust learning based on the feedback it provides. With seemingly ever growing class sizes in the UK, this could be a useful tool to help teachers manage ensure some students don't get left behind. Be aware that bandwidth is becoming a major challenge, particularly in secondary schools which tend to rely heavily on cloud-based tools so invest in a solid infrastructure that meets your needs both now and in the future.
As university spaces face increasing demand due to rising student numbers, commercial activities and the need to support student revision and study groups as well as traditional classes, the support landscape is also changing with less opportunity to carry out physical maintenance and ensure technology is operating at its optimum. The provision of flexible cloud-based services improves the ability of support teams to maintain equipment remotely, without the burden of excessive hardware to manage. Where second or third line assistance is needed, systems integrators can access the same cloud dashboards to troubleshoot remotely without the cost of engineer callouts to contend with.
So, as the global edtech market continues to perform strongly, what technologies will schools be looking to implement in the near future? The interactive flat panel will become the core element in the room with a built-in switcher/scaler, on-board high spec PC with i5 or i7 processor and a mobile device management platform that allows a helpdesk agent or field technician to broker a live remote session with the display from anywhere in the world, install software and apply policy to one or all screens. With or without the management platform, the displays update their firmware over the air and come out of the box with very good system security, and 'air-gap' network connections, preventing unauthorised access to the university network.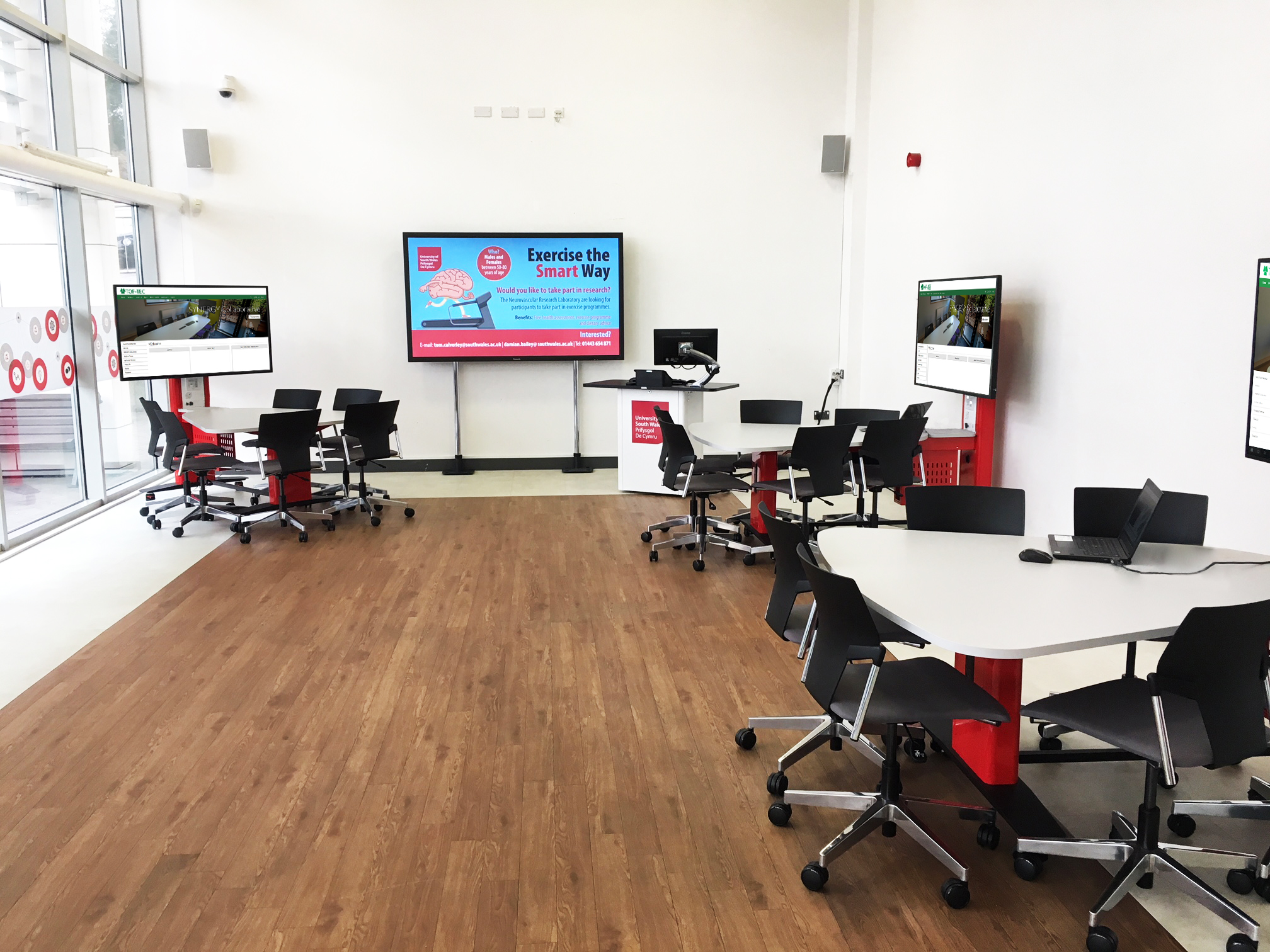 Our second key display technology has emerged over the past few years to take AV signal transmission into the realm of the IT network. Software Defined Video over Ethernet (SDVoE) treats a university campus as a matrix of sources and destinations, where any classroom is able to send or receive content from any other classroom. The transmitted video is packetised and sent over the production LAN along with other traffic – true AV over IP. Within the classroom any number of repeater screens can transmit or receive from any other, allowing students to quickly showcase their presentation and then switch back to the main display or collaboration unit. Outside of the classroom, AV over IP can facilitate distance learning, lecture capture, create breakout spaces, live stream events and allows the helpdesk a live view of what is on-screen during a lecture, facilitating support.
Voice control is also on the horizon and we can enable this on control interfaces via Amazon Alexa – teachers will be able to instruct Alexa to power on the AV, select an input source, control the volume and switch off at the end of the session.
Whatever the technology, the focus will continue to be on simplicity, effectiveness and preparing students for the technology they will likely use in the workplace