The University of Greenwich Proof-of-concept teaching spaces that enable full Hyflex learning with blended teaching for in-room and remote students and fully remote teaching via teams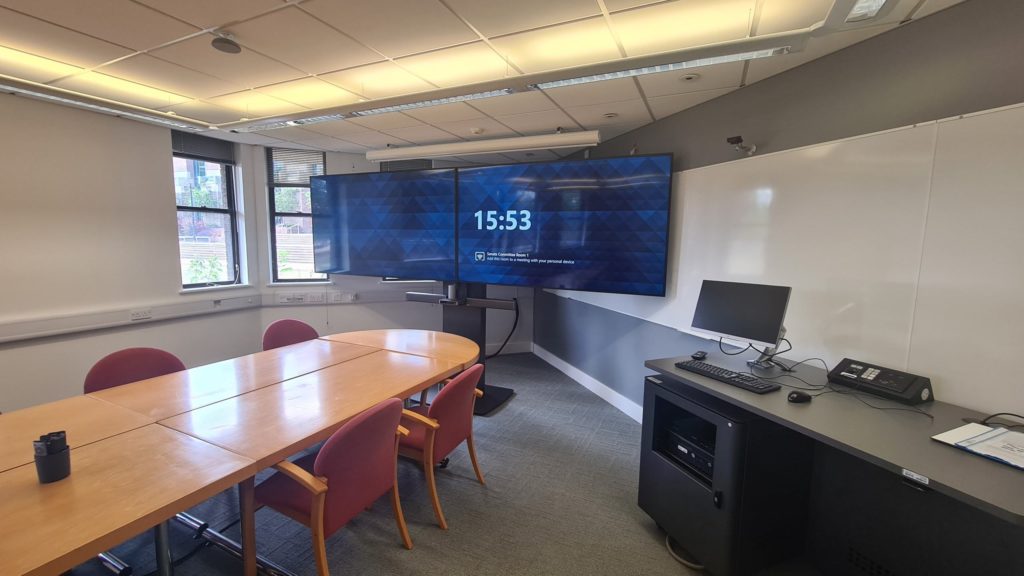 AV Refresh
The University of Greenwich tasked Strive AV to design and install a proof-of-concept for its teaching spaces. The brief was to enable full Hyflex learning to facilitate standard in room teaching, blended teaching for in-room and remote students via teams and fully remote teaching for all participants via teams. Strive AV agreed a design with the University's AV team and carried out a PoC room installation for a period of testing by academics.
After the PoC period, the University went out to competitive tender, in which Strive AV where chosen to deploy 23 Hyflex spaces across 2 of the University campuses Greenwich and Medway .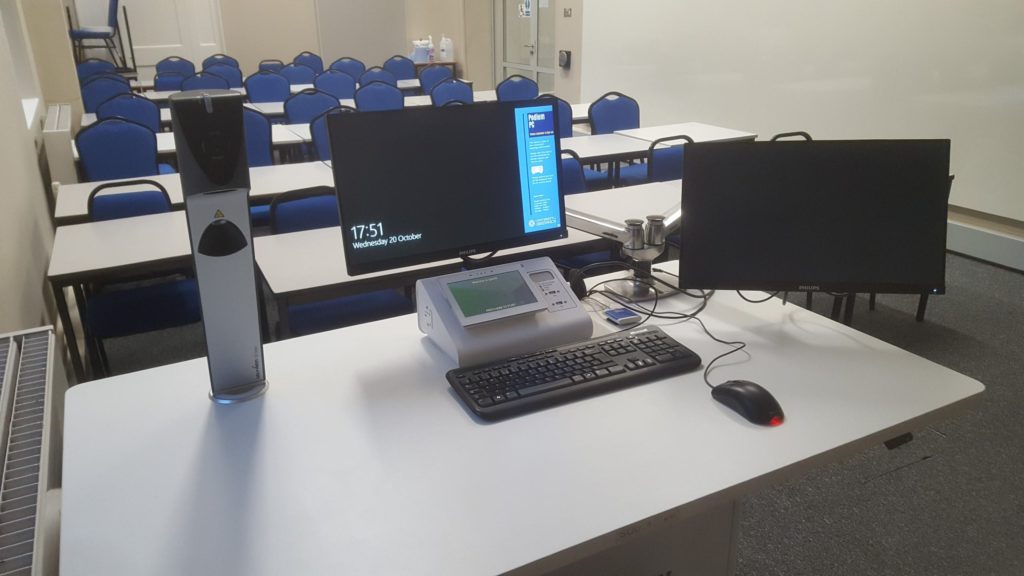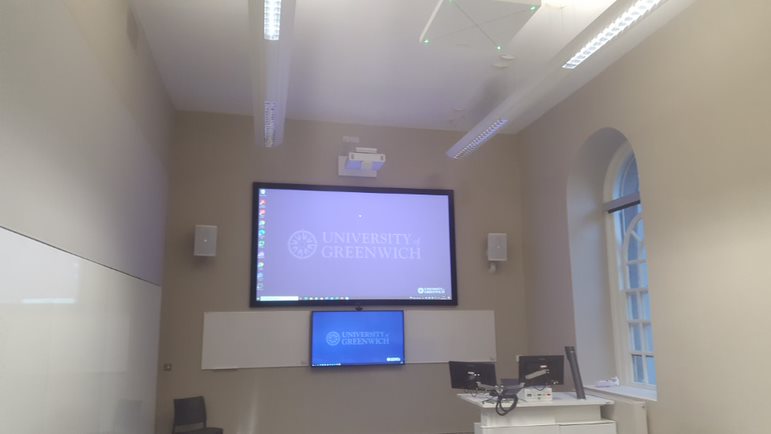 PROJECT CHALLENGES 
During the build up to project deployment, the AV industry began to experience availability issues with equipment, typically used within University teaching spaces. As the procurement was based on standard brands that the university worked with, supply issues became more apparent and a re-design was therefore required for equipment such as speakers, amplifiers, video matrix and control processors.
Mid-way through the project, promised drop dates of equipment started to fail, so further design changes were made to ensure the tight installation deadline was met, in time for the new academic year.
FEATURES OF A FULL HYFLEX ROOM
An AV system touch panel with a similar Graphical User Interface added to the existing design, providing familiarity for staff, but also control for the additional 'Hyflex' equipment. 
Dual Screen monitors on the teaching podium, replicated by two student facing display screens. Having a dual display allows staff to show presentation content on one screen and MS Teams (in video conference mode) on the other screen. It also presents content whilst being able to review what is happening in the MS Teams application (chat, hand raised etc.) 
Local monitors that support interactive touch, so that digital annotation can be provided using PowerPoint or MS Whiteboard. 
A presenter-facing PTZ tracking camera, which can be selected via MS Teams (webcam) By default, the camera will frame the teaching zone at the front of the room. It can also be manually controlled or set to auto tracking (which means it will follow the presenter smoothly, similar to someone using a tripod) via the touch panel. 
A student-facing camera – provides the ability to be selected via MS Teams (webcam) and used to show student discussions. 
A ceiling microphone – used via MS Teams (microphone) with the capacity to capture audio of anyone in the room, without the need of a radio microphone. It can also be controlled via the touch panel to allow the following modes to be selected: 
Teacher with students (default) – microphone will prioritise the teacher's voice over the student's. When the teacher stops talking, the microphone will then capture the student's voices.

 

Teacher without students – microphone will only capture teacher's voice.

 

Open Discussion – Microphone will capture all speech without any prioritisation.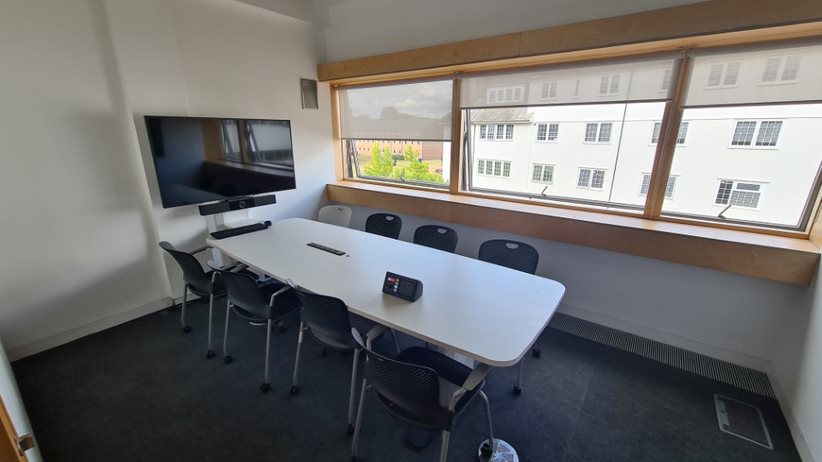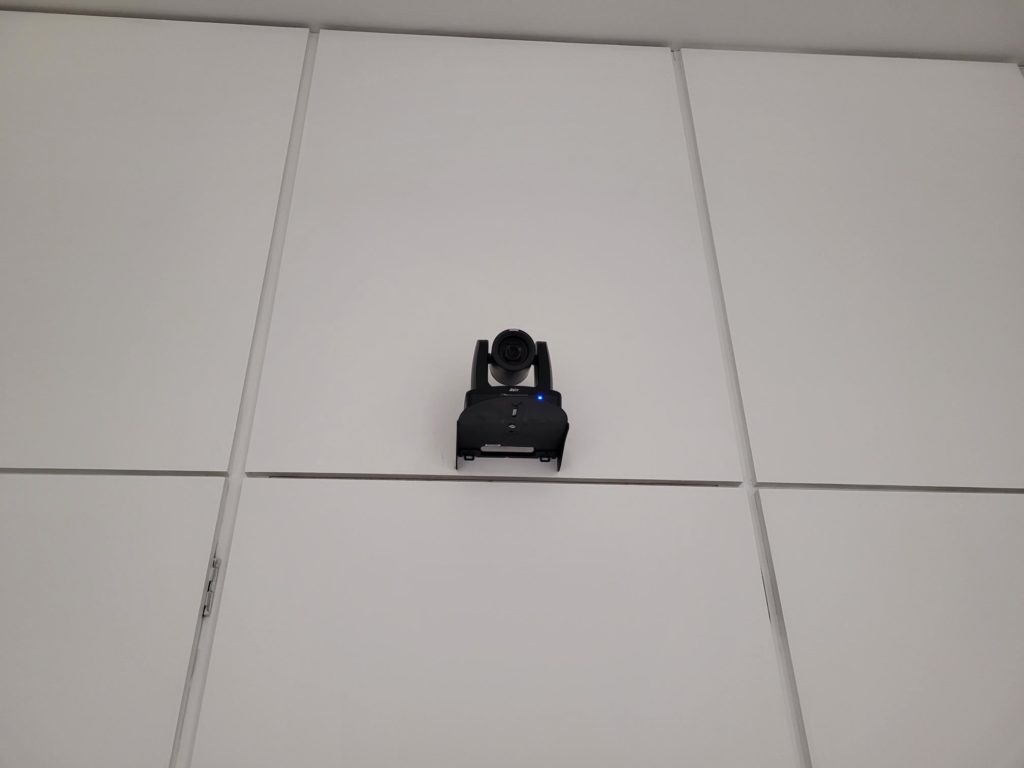 Audio DSP with AEC (Digital Signal Processor with Acoustic Echo Cancellation) MS Teams is not designed to deal with this requirement in a live environment, meaning that the sound of the person speaking will come out of loudspeakers at a high volume, so all participants can hear. This sound would then be sent back to the presenter via the microphone, causing confusion and disruption. The hardware Audio DSP with AEC is designed to deal with this issue and allow discussions to take place freely, either in-room or remotely.
Document Camera USB – The documents camera/ visualiser connects to the system via USB (In addition to HDMI), so it can display within the MS Camera App and then be shared with MS Teams.
A rise/ fall teaching desk was included where possible to provide better accessibility.

Installed
Sennheiser TeamConnect Ceiling2 (TCC2)

 

Extron Video Switching & Control System

 

QSC Core 8 Flex Audio DSP

 

Top-Tec Height Adjustable Lecterns

 

NEC ME Series Display Screens

 

Aver Auto tracking PTZ Cameras
Are you ready to start your next AV project?
Contact our experts to find out how we can help.
Contact us for details on creating and managing your next AV project. Simply add your email to the form (more form fields will appear) and tell us more about the project aims.