Main
Create a wow factor with Large-format displays
One of the easiest ways to create a wow factor is with a large-format display (LFD). These versatile, eye-catching displays can create an impact in multiple environments, from retail and stadiums to auditoriums and corporate spaces, driving customer interactions and encouraging engagement.
Ranging in size from 32in to over 100in, often with ultra-thin bezels for the ultimate viewing experience, LFDs can display adverts, videos and other messaging on a 24/7 basis, meaning they simply can't be ignored by passers-by.
4K and UHD are only increasing the power of the LFD, offering impressive picture quality, pixel-free viewing and precise, uniform colours whatever the viewing angle; 8K displays build on this further but at a higher price point.
Key considerations when choosing an LFD include resolution, brightness, location – whether the screen will be indoors or outdoors – and, of course, budget. Given the potential size of these displays, mounting is also an important factor, with a robust solution that can manage how the screen will be used while also providing ease of access for maintenance and repair essential to guarantee a safe installation.
Depending on your needs, LFDs can offer features such as interactivity and multitouch, picture-in-picture mode to enable content sharing, inbuilt CMS, ideal for digital signage applications, and even integration with videoconferencing tools such as Zoom.
However, with so much choice out there it can be difficult to know which AV kit will work best in your specific scenario. And that's where StriveAV comes in. With decades of experience providing AV solutions for all kinds of teaching spaces, we can advise on the latest and most effective tools, that will truly impact learning outcomes.
From interactive whiteboards and high-definition displays to make lessons more engaging, to ceiling arrays that ensure everyone can hear the teacher no matter where they are in the room, and control systems that make it easy to set up lessons, an integrated AV solution can enhance communication, encourage collaboration and create memorable learning experiences.
List
StriveAV works with a number of leading manufacturers in the LFD space. This includes Clevertouch, whose 4K CM Series is popular in a variety of verticals, including retail, corporate and education. This non-touch LFD family comes with inbuilt digital signage and meeting room system integration in sizes from 43in to 86in. Wireless display connectivity and RS232 control for professional meeting room integration with control systems make this particularly useful within the enterprise.
Offering solutions for a range of budgets, NEC's MultiSync family is designed for ease of install and use. Take the budget-friendly 55in MultiSync V554Q-MPi3 which combines media playback with professional digital display technology for impactful messaging in sectors such as retail and leisure. The unobtrusive, slim design integrates seamlessly with the surrounding architecture whilst the 500cd/m² brightness output and anti-glare surface ensures excellent viewing.
Available in sizes up to 82in, the QE2 Series from Samsung feature upscaling technology to display all content in eye-catching UHD resolution. Built to operate 16 hours a day, 7 days a week with a 3-year onsite warranty, the displays are economical and efficient, integrating with Samsung's MagicINFO Lite software to provide users with a simple content management solution and remote monitoring and management.
Case Studies
Meeting room AV refresh for Rail Safety and Standards Board (RSSB)
RSSB is a corporate client whose day-to-day activities include hosting meetings, corporate events, presentations and video conferences.
Their London-based office was fitted with legacy AV that no longer met the needs of the business, as it was not flexible enough to support the variety of scenarios the customer needed. It was old and difficult to support when it went wrong, and it took up a lot of space and power in the office (as well as contributing heat to the spaces).
See Full Case Study Here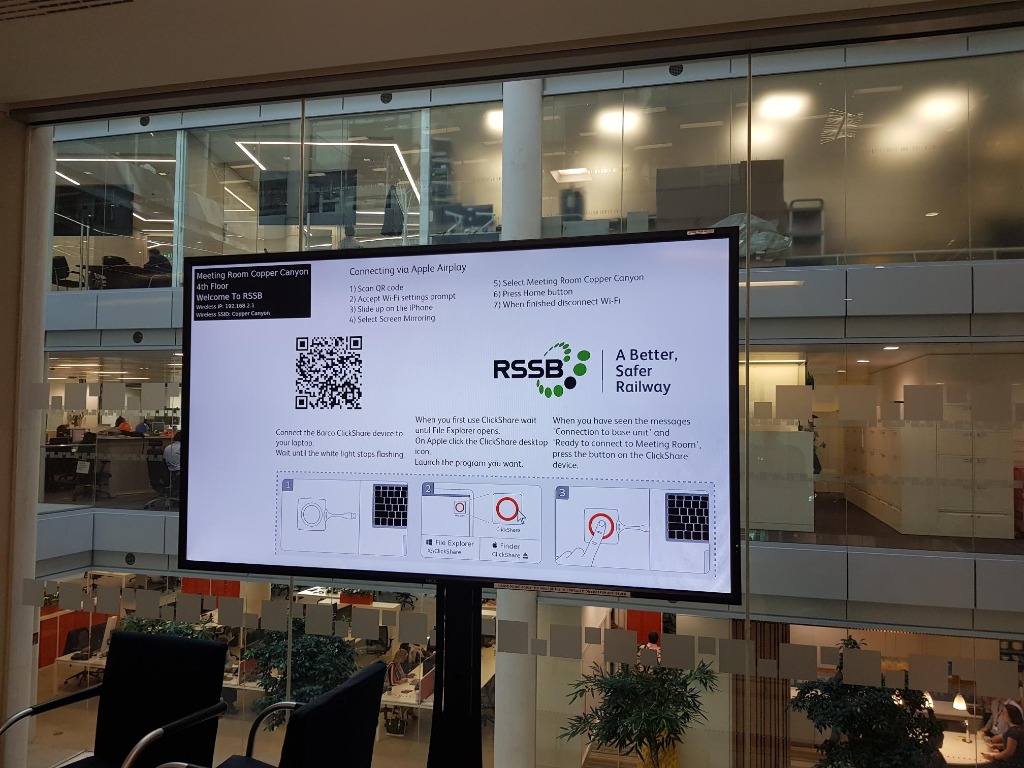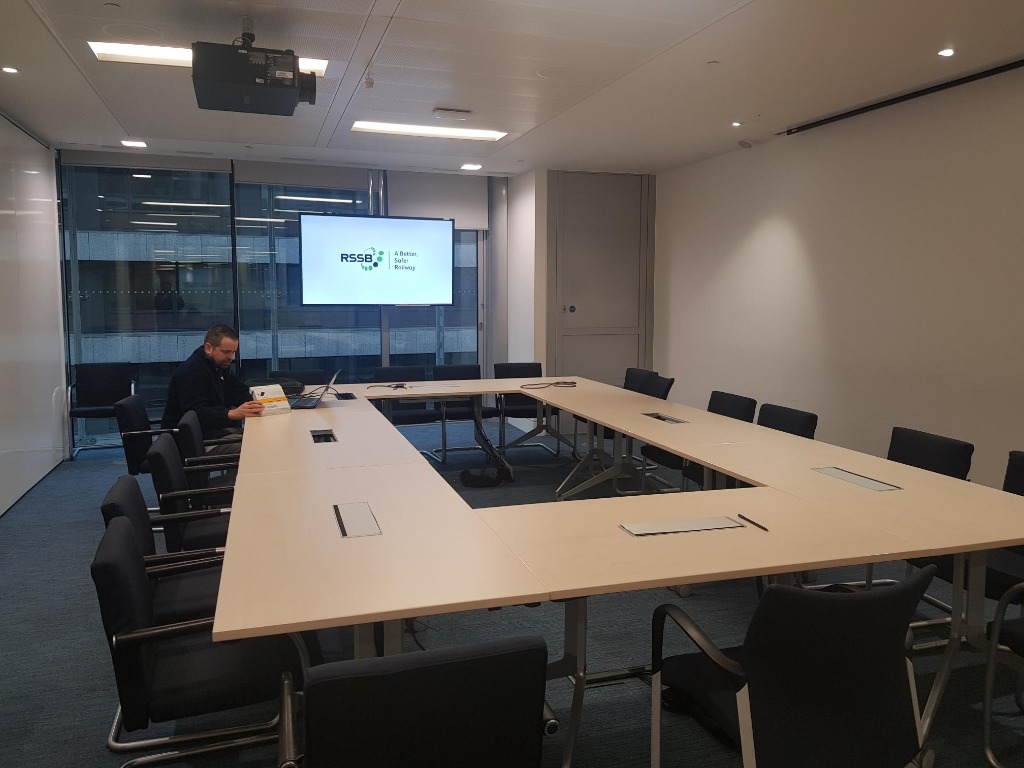 What Next?
The technical experts at StriveAV are always on hand to discuss your needs more thoroughly. We can advise on everything from initial consultation to post-installation service and support.
Call Us Now:
01689 885 380