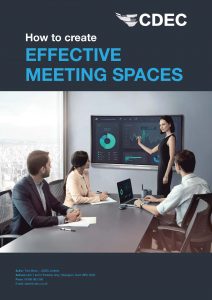 Perhaps
the only thing that has kept pace with developments in workplace technology in recent years is the pace at which the concept of the workspace itself has changed. While it may be difficult for many Millennials to appreciate the impact they've had on the workplace, there's no denying it's been significant. Just a decade ago you could walk into pretty much any corporate environment and expect to see largely the same vision; employees sat at their own desk, working on their wired-in desktop computer with a phone by there side, their team around them and a boardroom on the top floor for meetings.
Keeping pace with the changing workspace
The problem with meeting spaces
Top meeting room mistakes
The many faces of meeting spaces
How to successfully implement room upgrades
And more...
Download our FREE guide today --->